Industry ready skills, tools and projects, all in a matter of months: These reasons make UI online training programs the top learning path for aspiring UI designers. The market for online bootcamps has grown tremendously with top jobs — like this one at Byju's, for instance — emphasising lesser on professional degrees and more on skills and experience. Choosing one is hard because unlike colleges, there isn't a data trail that you can use to verify the success claims of most programs.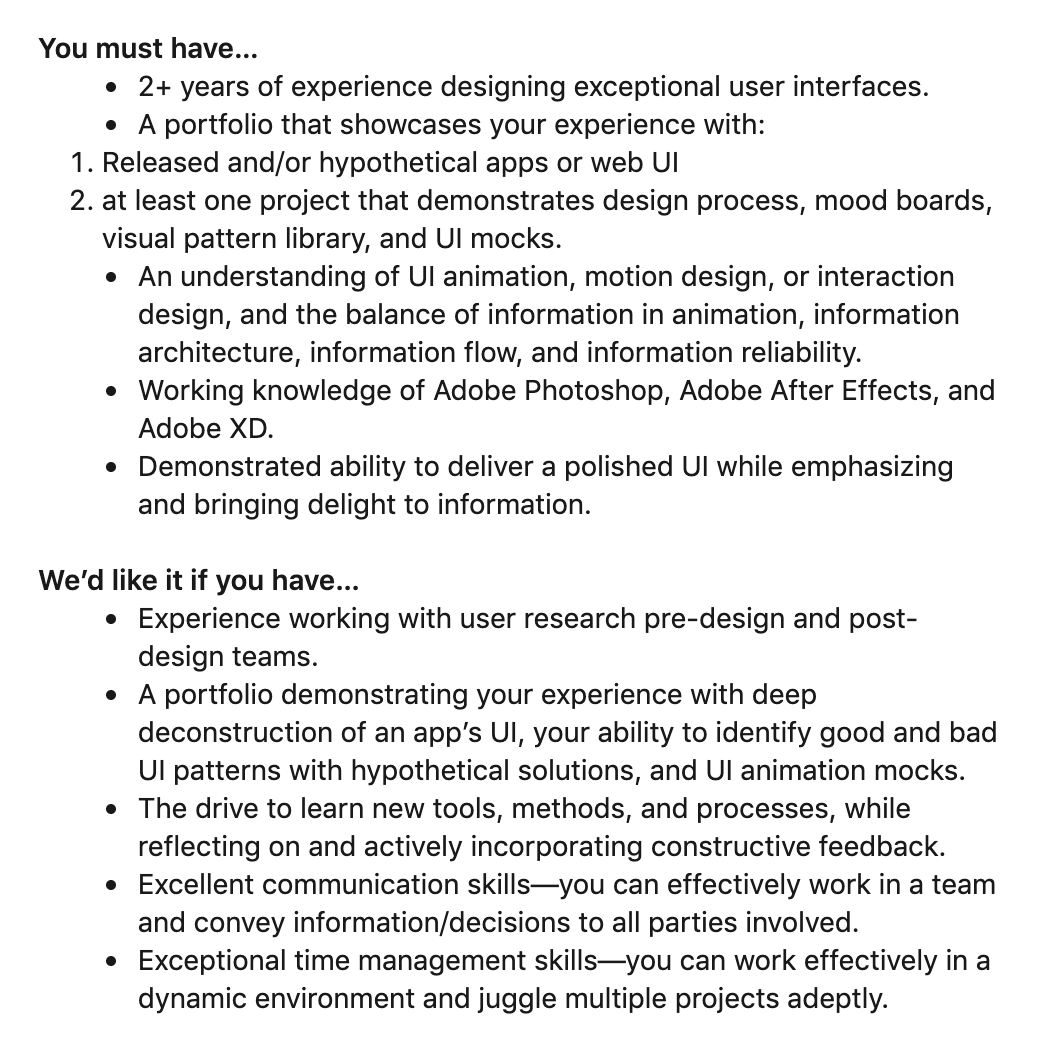 With Springboard, there is. In this blog post, we'll tell you why choosing the Springboard UI/UX bootcamp is an intelligent investment — and not only because of a job guarantee.
UI Online Training: Everything You Need To Know
UI is anything from your screens to touchscreens, keyboards, sounds, even to your laptop, which you are probably on right now. — Chandrika Kumari, UX specialist, founder of roaming-i.com and Springboard mentor.
What is UI?
In short, a user interface is a medium through which a person and a machine interact, quite like a remote that lets you surf through TV channels. UI design shapes how easily and intuitively users are able to navigate these interfaces. It is often clubbed with UX design as user experience has a wider scope, encompassing UI design.
At Springboard, we understand that UI and UX are closely intertwined. This is why our UI/UX bootcamp covers both, equipping you with skills for usability and aesthetics.
What Should a Certification Course for UI Teach You?
A UI designer needs to know how to use digital tools to build an interface, be it websites or apps. The broad skills that online training for UI should give are:
In-depth introduction to UI design
UI design principles and concepts
Latest trends and best practices in UI design
Know-how of industry standard tools
How Springboard Goes Beyond Any Other Certification Course for UI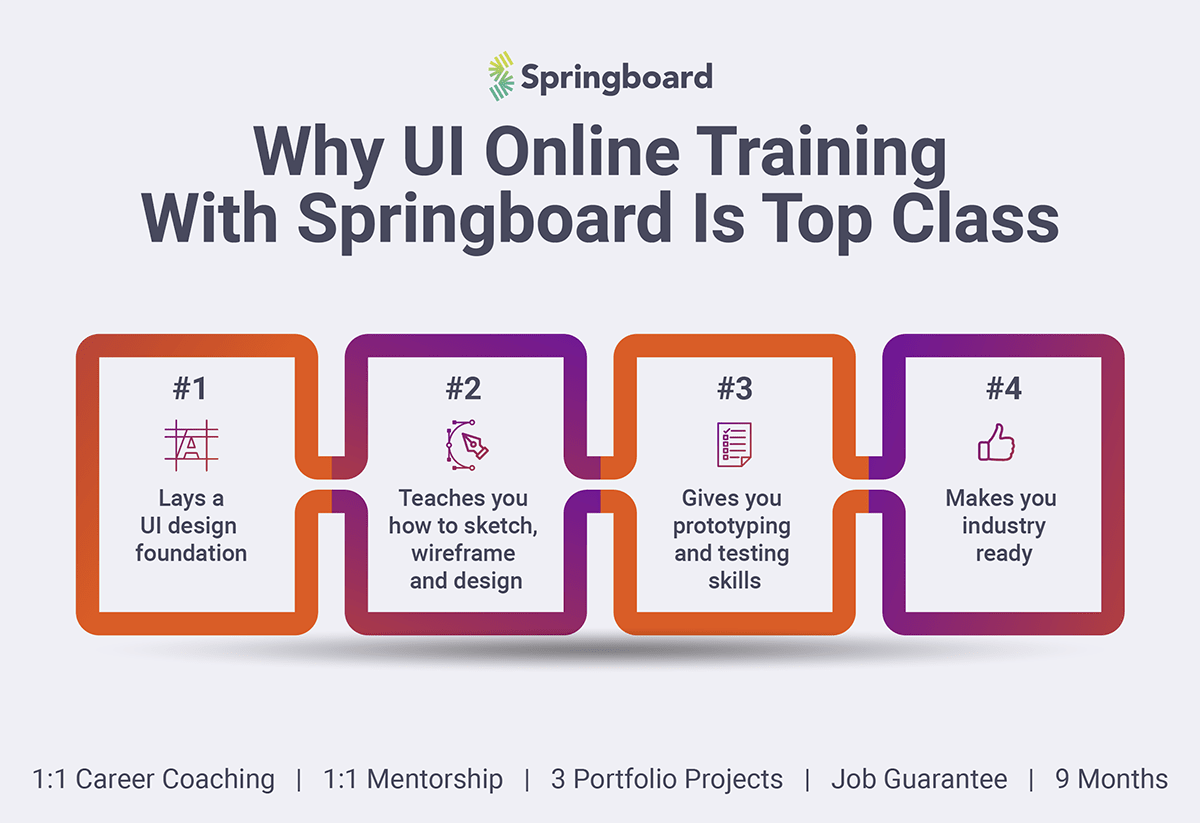 The Springboard UI/UX Career Track is different from a UI technologies training course. Here, you don't learn a hundred things you'll put on your CV and never use. Instead, you will gain the foundational knowledge, skills, experience and coaching needed to be job-ready in the competitive UI design market. The course is taught and mentored by leading UX designers from some of India's foremost UX teams.
The Springboard UI/UX Career Track does the following.
#1 Lays a UI Design Foundation
Every successful UI design career needs a strong footing in the basics. This includes not only UI design concepts but also user behaviour and business understanding. The Springboard training for user interface teaches:
Visual and UI principles
UI elements and patterns
Interaction behaviors and principles
Understanding brand platforms
Style guides
#2 Teaches You How To Sketch, Wireframe And Design
Step one of the actual UI design process is outlining or sketching your plan — be it on a piece of paper or a digital app. This clears the road for your UI developer training aspects such as wireframing the design, UI elements, their arrangement, size, etc. Finally, you create a high fidelity mockup of your design solution. At the Springboard UI online training, you'll learn:
Sketching principles and red routes
Usability testing and responsive design
Creating wireflows
Inclusive design and designing for accessibility
Mockups and interaction patterns
Animations
#3 Gives You Prototyping and Testing Skills
Unlike fine art, creating a final product isn't enough. You need to ensure that your design actually solves the customer's problem by building prototypes and testing it for efficiency. At this stage you'll:
Build a prototype
Conduct usability tests and research
Synthesise test findings
Iterate prototypes
These technical skills for your UI design job can be gained in a little as nine months!
#4 Makes You Industry Ready
All said and done, just skills don't make a designer — one must be able to demonstrate those skills and convince recruiters and hiring managers that they're perfect for the job. To help with this, the Springboard UI/UX Career Track includes:
Communication and presentation skills so you can collaborate effectively with clients, team members, leaders, etc.
1:1 mentorship gives you the opportunity to learn directly from — and be guided by — UI design experts working in the industry.
Personal career coaching to equip you with a job search strategy, CV support, guidance for salary negotiation, etc.
Additional resources like webinars and youtube videos also help you learn outside of the classroom.
If you're looking to become a designer — UI or UX — consider the Springboard UI/UX Career Track. It is not just an online course for UI, it is a complete package that will make you job-ready. Oh, did we mention the job guarantee?