Data Science is among the latest hot jobs in the world of technology.  Data Scientist jobs are now found across several sectors of business, including high-end R&D, retail, manufacturing and sales & marketing, among others. A Data Scientist possesses the capabilities and skillsets to collect, use, analyze and synthesize large amounts of data (unstructured and structured) into actionable suggestions, and implementations for business and/or research use. With the increasing penetration of digital technologies across businesses, and a plethora of consumers using apps, the presence of a Data Scientist in an organization, has become an important element of the operation. How to become a Data Scientist? What is Data Science all about? This blog will explore this, and much more. 
Just as a business cannot operate without a sales team, so is the case with many data-centric organizations that cannot work without a skilled Data Scientist – It has become a key role. The graph mentioned below is from Indeed, a popular job website. It clearly shows that Data Scientist jobs are in huge demand, and are growing year-on-year. The need for Data Science in businesses is unparalleled.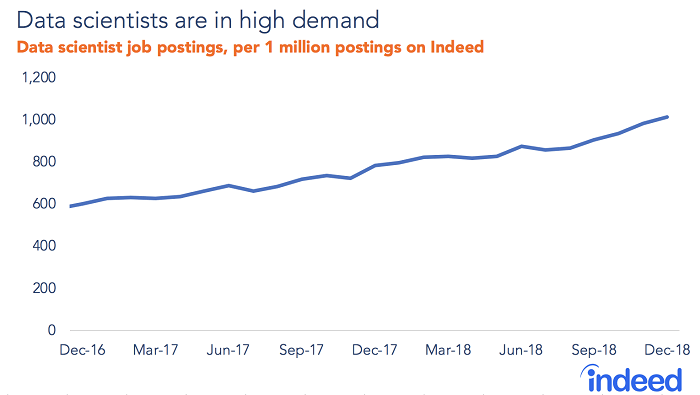 Maybe this is why technology professionals are choosing courses and degrees which are aligned towards obtaining Data Scientist jobs. How to become a Data Scientist though? Let's find out.
How to Become a Data Scientist?
To address the question of how to become a Data Scientist, it is essential that you have a solid base of programming and statistical skills. Knowledge in Linear Algebra, Data Visualization, and Calculus is a must. You must have a Bachelor's Degree in Computer Science, IT, Maths, Physics, or any other related field. A Master's Degree in Data or any other related field is a bonus. You can also take up several available courses, like those offered by Springboard. 
Let's address what a Data Scientist does.
Data Science, in essence, is about drawing insights from the world of data and connecting the dots between disparate pieces of information. It is one of the most important of the four paradigms of Science, as put by Jim Gray (A Turing Award winner). The other three are Empirical, Computational and Theoretical Sciences. 
Data Scientist figures out the best possible architecture to solve a particular problem. 
They may be responsible for building a State of the Art Recommendation System, or building a "Question Answer System". These systems are Personalization Systems for specific data sets. 
Data Scientists are also involved in trying to detect fraud and finding and implementing the best fraud detection platforms for datasets. 
Everything boils down to the kind of data you have or the question of you having enough data to solve a particular problem – If not, then you must scrap that data, and start from scratch.
Here is an interview with Chirasmita Mallick, Data Scientist at G2 and Mentor at Springboard explaining How to become a data scientist. She also discusses the prerequisites and skills required to become a data scientist. She will walk you through the entire path to becoming a data scientist, from where to start, skills required, tools one should know to data science industry expectations along with tips on resume building and how to crack a data science interview.
For our readers to better understand the ins and outs of Data Science, we have articulated this blog in a way of answering the key question of how to become a Data Scientist, in phases.  
Can I Be a Data Scientist?
Data Science is a wide field and is open to all. While personnel with technology-based backgrounds will have more advantages than others, a Data Scientist needs you to have a problem-solving attitude. Once you learn the required skills, you can become a Data Scientist.
Data science is all about finding algorithms, and exploring data, to find meaningful information from unstructured (or structured) data and presenting it to an audience that can use it.
A combination of all the above aspects forms a complete ecosystem of Data Science. Anyone with an inherent curiosity to solve problems, and a willingness to take additional steps to find a link between statistics, Machine Learning, and algorithms, to envision information out of data before presenting it to the targeted audience in a consumable format, is perfect for the role – Sounds complicated? It is not! If you have the above-mentioned skills, then the Data Science industry is looking for you.
How to Build Your Career as a Data Scientist? 
Answer 1 – There is no requirement for a specific degree, as a specific skill set, passion and interest can help you become a Data Scientist.
To become a Data Scientist, understanding contextual applications around the following Streams is essential – Computer Science, Mathematics and Statistics, Social and Physical Science, and Engineering. The educational background of a potential Data Scientist is not limited to any particular degree, although most Data Scientists hold a degree in Statistics and Computer Science.
A degree in any of the above courses will give one the assistance needed, to process and analyze Big Data. Students with sound knowledge in Statistics, Mathematics, Computer Science, and Engineering, do have an advantage and an upper edge over others. This though doesn't mean that students belonging to other streams cannot pursue a career in Data Science, or transition from other jobs, like that of a doctor or a lawyer to being a Data Scientist. 
To become a Data Scientist, one should be curious, analytical, and should be able to ask the right questions from consumers, in order to find and identify the right data. The right educational background, coupled with the knowledge of subjects required of you to become a Data Scientist will put you on the right track. 
Answer 2 – Key programming skills like R, and Python, among others, need to be developed and most of these skills can be attained by practice and training.
Here are the sought after skills to become a Data Scientist:
Risk mitigation and analysis experience;
Mathematics and statistics;
Cloud tools;
Data visualization and data debugging;
Key programming languages like R, Python, SAS, JAVA, SQL AWS and so on;
Capability to handle Big Data;
Machine Learning and algorithms;
Understanding of common data warehouse structures;
Experience in working on, and solving analytical problems;
Software Engineering and Data Engineering;
Neural networks;
Product management;
The skill to undertake qualitative and quantitative analysis,
Working on dashboards,
As reported by "Towards Data Science", the above-mentioned skills, are the general skills looked for in a Data Scientist job listing. We believe this will be useful for our readers to assess their level, and work towards becoming a Data Scientist. 
From a technological skills perspective, an analysis by Towards Data Science has identified the following key demands.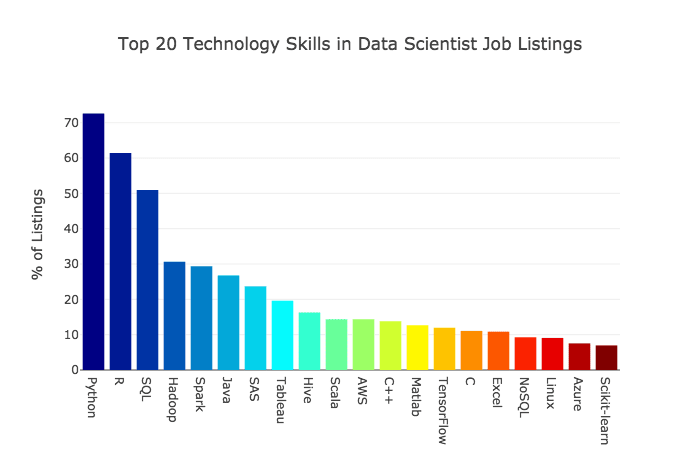 Answer 3 – Get ready to learn new things. You must have passion towards Data Science, as it makes life easier in the Data Scientist Profession.
As long as you are willing to go the extra mile and learn coding and other skill sets required of a Data Scientist – your background as an economist, or a teacher (among other job profiles) will not matter.
Studying subjects like Computer Science, Statistics, and Mathematics as a part of your formal education, does have an advantage, but the field of Data Science is not restrictive. You can learn specific parts of these courses and work in this field while having been a part of another profession altogether.
Start with the Basics – Learn the programming languages of Python and R. Data Visualization is a key skill for a Data Scientist. You also need to be well-versed with SQL skills. These skills will help you build the required logic you will have to apply, in order to solve and create algorithms in different scenarios. Brushing up your Statistical, and Mathematical Skills – Algebra, Probability, and Calculus, is necessary.
Working as a Data Scientist will require a reasoning structure –
What are the questions I want to answer?
Do I have the right data to answer these questions?
Understanding Machine Learning algorithms by creating the right logic
Here are Five Key Steps YOU Need to take, to immediately to get a Data Scientist Job
Step 1: Develop an interest in Data Science. Data Science is a well-paid job and is in high demand. In order to become a Data Scientist, you must read about Data Science, and determine whether your skills and passion suit the stream of Data Science. Join Data Science courses to further your knowledge, and to conquer the stream.  
Step 2: According to various use case examples, without earning a related degree it is highly unlikely that you will get a good job in Data Science. That being said, you can try getting an academic degree by enrolling in Internet-based Massive Open Online Courses, like the ones available at Springboard. (MOOCs).
Step 3: It is very important to improve your skills, as the field of Data Science is always evolving. Focus on improving your capabilities, and try to move from one Data Scientist job to the other. You can move from being a Data Visualization Specialist to a Machine Learning algorithm developer, to a Data Engineer, and to a Data Enterprise Science Analytics Manager.
Step 4: Get yourself certified at various levels, to ensure that your career is never stagnant, and to ensure that your market value is intact. Springboard offers various data science courses and certification programs, so enroll yourself now! 
Step 5: Post getting yourself certified by Springboard, you will get hired immediately.
Industry intuition and training are of the essence to excel in a specific industry. To understand how customers make decisions, what appeals to them and how logic can be designed in decision making can help a lot.  The industry is on the lookout for the super-specialization of different subsets in an industry. 
How to successfully get a Data Science Job?
The Data Science field is highly competitive, ever-changing and evolving space. You should be a strategic person, with sound knowledge, to be among the top 5-10% of the total applicants. Choose the domain you are really passionate about – get acquainted with the industry requirements and the problems the Data Science industry is currently working on. 
After figuring this out, build your strategies around it. Keep yourself aware of what is happening around you in the Data Science industry.
Learning the intricacies and architecture of the data logic in your chosen industry will help
Spending a good amount of time reading research reports, and going to conferences will help you a lot. 
DO not limit your job search to job portals. Go to professional-meets and companies at large, to showcase your skills.
Learn about your chosen industry and see what problems the industry is trying to solve. Learn about Text Mining, NLP and Deep Learning aspects.
Formulate an MVP (Minimum Viable Product) and a POC (Proof of Concept). This can give you an edge in any job interview or fundraising. Get some work from Kaggle or GitHub to work upon, and get it done. This will show your credibility on the Data Analysis side.
Visualization Skills (Data Architecture) are very crucial for Data Scientists because at the end of the day you are a problem solver. Having an appetite to learn and understand new and challenging things is the core strength an interviewer looks for, in a candidate.
It is constant ask is for what is right, and what the customer needs to be answered
Market Trends and Scope
According to Forbes, the number of Data Scientist jobs is estimated to grow by nearly 364,000 by 2020.
Businesses Data that will be available for analysis, will grow to $430 billion by 2020.
A tremendous increase of 39% will be seen in Data Scientist jobs by 2020.
The biggest breakthrough in this field is the language Python. You can build logic structures on large data sets using Python. Without depending on company tools, you can build a number of models using Python.
Focus on building an efficient data set, and model. How you deliver these to the client and solve his questions and problems is a part of your job. Articulation of your results and communication is a core concept of your problem-solving skills
To sum it up, in today's growing digital landscape, the aspect of business planning, taking operation decisions, customer acquisition, people performance management, ROI assessment, financial planning, and many more activities, is happening through the processing of data. 
Data Science and Data Analytics have started to play a key role in businesses, irrespective of the industry or its size. This is a testimony to the fact that Data Scientist jobs are the future. There are many industries that are dependent on Data Science, and who require Data Scientist professionals – E-commerce, Agriculture, Robotics, Medicine, Public Policy, IT, Human Resources, Hotels, Travel, Military, and the list goes on. Why wait? Join Springboard's courses and get yourself an attractive Data Scientist job today.