In the interview from 2015, Dr. Shanji Xiong, Chief Scientist, Experian Global DataLabs spoke about career opportunities in data science stating that "90% of the data in the world has been created in the last two years". In the five years since a lot has changed. But one thing has remained the same: We continue to generate vast amounts of data, giving rise to various kinds of data science career opportunities.
Across enterprises, small businesses, NGOs, and governments — collecting and analyzing data to get a better understanding of the world has become an integral function. In the post-pandemic world, career opportunities in data science are likely to bloom. Let's see what roles might be in demand and what you can do to grab them with both hands.
Career Opportunities: Your Data Science Journey
While most of us think of 'data scientist' as a singular job, career opportunities in data science are plenty and varied. Depending on the kind of organisation, department, vertical, domain, level of seniority etc., you can be performing completely different roles. Some of these are:
#1 Data Scientist
A typical data scientist works with large datasets to solve complex business problems. They use techniques like data mining, data wrangling, statistical methods, software programming and machine learning algorithms to achieve this. In fact, today, a wide range of roles are generally called by this name; your title might be 'data scientist' but you might be performing functions such as:
Data architecture
Data visualisation
Data engineering
Deep learning
Machine learning
Data scientist skills
The most commonly required skills of a data scientist are:
A degree in mathematics, statistics or computer science. Certification in data science can be a plus.
Experience in data mining, wrangling, visualisation etc.
Knowledge of programming in Python
Fluency in database management and SQL
Problem-solving and communication skills
Data science salary
The average data scientist earns around Rs 9,00,000 a year, and with experience, the salary can go up to Rs 20,00,000 a year.
Source: LinkedIn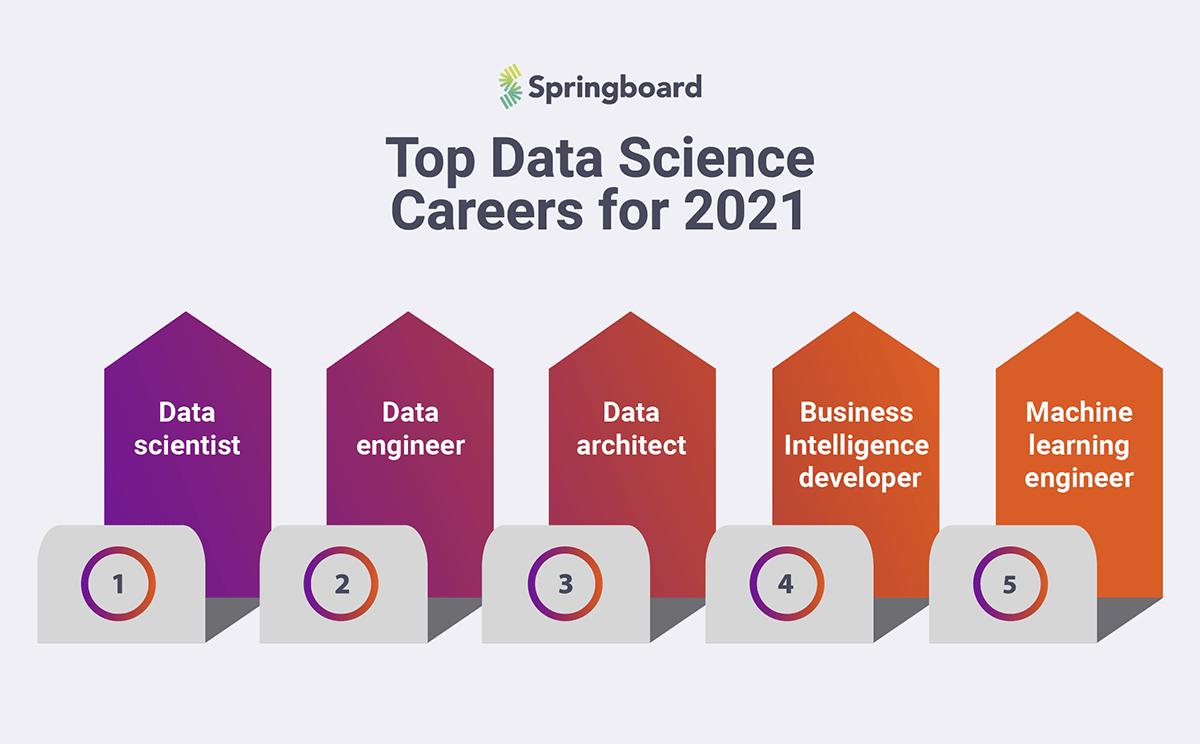 #2 Data Engineer
Data engineers are a combination of a software engineer and a data scientist. They are responsible for compiling and installing database systems, writing queries, scaling to other machines and overseeing database architecture. The skills required for a data engineer are:
Data warehousing
Data science
Knowledge of statistics
Knowledge of software development
Data engineer skills
The skills and expectations from a data engineer can be different from a data scientist, even though the roles might overlap. Take the example of a data engineering vacancy, available at an Indian startup below.
Data engineer salary
Data engineers are in-demand across industries. They earn an average of Rs. 700,000 per annum, which can go upto Rs. 16,00,000 with experience.
#3 Data Architect
The data architect is the role that ensures the data science functions of an organisation runs smoothly. They define how master data is organized, modeled and governed across the organisation. They will also design the flow of data, APIs and contribute to the way it is managed.
Data architect skills
Graduate degree in computer science, or relevant qualification in data architecture
Knowledge of enterprise data modelling
Experience with event-driven architectures and API design
Fluency in ETL tools
Proficiency in SQL, XML, JSON, Java and Python
Comfort working with agile development teams
Data architect salary
Data architects are among the most highly-paid big data professionals in the country. They earn an average salary of Rs. 18,00,000, with ETL developers earning between Rs. 8,00,000 to 10,00,000.
#4 Business Intelligence Developer
A business intelligence developer is responsible for gleaning and presenting insights through data visualization, modeling and reporting for non-technical stakeholders.
They role typically involves:
Understanding business requirements and finding insights in data
Building interactive dashboards and reports
Developing workflows and KPIs
Enabling data availability for business and technical teams
BI developer skills
A BI developer will be expected to have:
Experience in business reporting
Comfort with relational databases, SQL, cloud data platforms etc.
Knowledge of tools like Tableau, Power BI etc.
Interpersonal and communication skills
Experience in the domain / industry can often be a huge plus for a BI developer. These developers begin their careers with an average salary of Rs 5,00,000 a year.
Source: LinkedIn
#5 Machine Learning Engineer
Several data scientists progress in their careers to become machine learning engineers, as the skills complement each other. A machine learning engineer works with large datasets, and builds algorithms and models to solve business problems. They also code and deploy machine learning applications.
Machine learning engineer skills
A typical ML engineer has:
Background in ML, deep learning modelling techniques.
Coding skills with big data technologies and frameworks like SparkML, TensorFlow, PyTorch, Keras etc.
Comfort with distributed systems and large scale engineering challenges.
Other technologies that can help are programming in Python, Scala, MongoDB, Jenkins, Kinesis etc.
Machine learning engineer salary
The average salary of an ML engineer is Rs. 6,00,000 per annum, growing significantly with experience and specialisation. LinkedIn users report earning up to Rs. 40,70,000 with 6-14 years of experience.
Data Science Jobs: A Leap Ahead
While we've listed the top five data science career opportunities, these are only the start. From being a junior data scientist, you can grow to lead data science teams or launch a freelance career as a senior consultant. You can also opt to focus on machine learning or artificial intelligence to become a specialist in that field.
Not only is data science one of the most lucrative careers today, it is also challenging and exciting. To learn more about data science, and to launch your career, check out Springboard's Data Science Career Track.
With this, you can gain job ready skills, do hands-on projects, receive 1:1 mentorship from top industry professionals and support to transition to a rewarding career in the field.