A quick search for 'data analytics tools' returns millions of results on search engines — in the domains of programming languages, software, libraries, business intelligence platforms, web applications and so on. The options for tools in data analytics are nearly endless, often leaving aspirants confused and unmotivated. Just as a great tool can make a data analytics job easier, an inefficient/inappropriate tool can make it life harder.
In this blog post, we'll explore the top data analytics tools used by data analysts in their day-to-day job. We'll also see what kind of applications these tools are most useful for and how you can learn them.
Data Analytics Job: The Tools you Need in Your Armour
Data analytics is the science of analysing data to glean insights that will help solve business problems. Traditionally, when data was hard to come by, these jobs were performed by people like accountants, finance experts, etc. Today, financial information is not the only data available. Netflix watching list, number of steps you walk, the time you spend on your phone, the words you search for — these are just some of the data footprint each of us leaves behind.
A thoughtful analysis of this data can result in solutions and insights that can change the world. For instance, take the report cards of school children in the countries' villages, towns and cities. Governments can define their policies and budget allocations based on who needs them, instead of distributing them evenly.
Businesses can and do leverage their own data the same way too. This is why the role of a data analyst has become ubiquitous across industries. LinkedIn shows over 6,800 data analytics jobs as vacant currently in India.
To land any of these jobs and walk the data analytics career path, you need to cross two important milestones: grasping the key skills and being familiar with tools. A good data analytics course will teach you the skills you need. But experience with tools is something you must continue to build on, even after the end of your course.
Choosing the Right Tools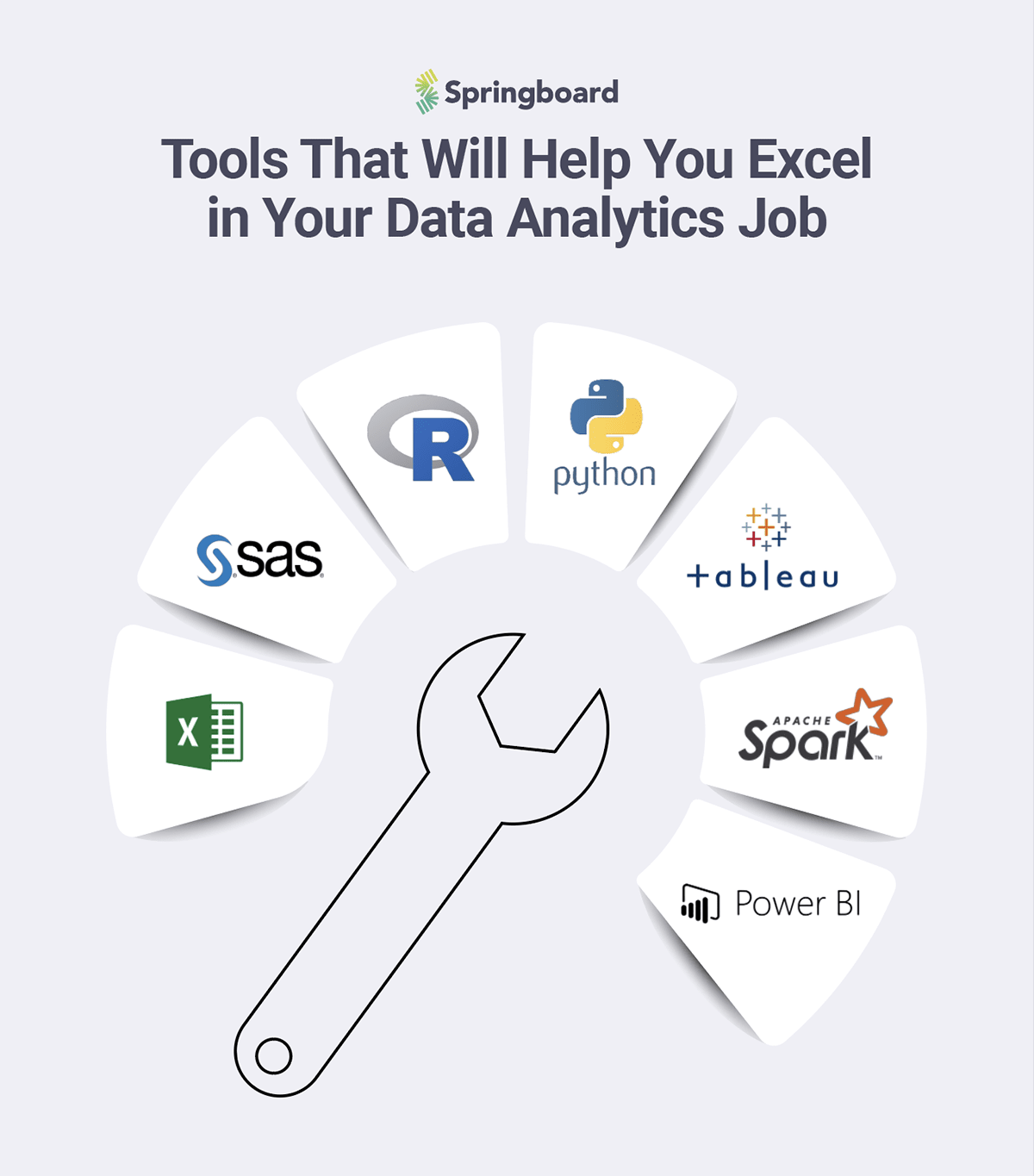 While choosing the tools to learn as part of your preparation for a data analytics career, consider the following factors:
Is it a free or a paid tool?
Does it have enough documentation and community support to learn from, quickly?
Will it work in any environment — Windows, Mac, Cloud, etc.?
What tasks are better compatible with which tools specifically?
Is one tool easier, quicker and efficient than the others?
Let's look at some tools and how you can use them to excel in your data analytics job.
Top data analytics tools you need to know
There are hundreds of data analytics tools available in the market today. The good news is that you don't need to know them all. In fact, a good data analyst is highly-skilled in only 1-2 tools, with comfortable familiarity with another 2-3. That is all you need. 
Let's look at some top data analytics tools:
#1 MS Excel
Yes, you heard us right! If you're thinking it's too basic, you'll be surprised how many data analysts vouch for it as their go-to tool for everyday analysis. Excel provides the foundational structure for databases and allows data analysts to perform a wide range of functions: Pivot tables, macros, vlookups, sum/product, to name a few. In fact, several data analysts also create visualisations using Excel, which can then be embedded in powerpoint presentations.
Newer (and free) options like Google Sheets are gaining popularity for their collaborative features, but there isn't yet one that can match the powers of good old MS Excel. While it is technically a paid software, Excel comes pre-installed in most laptops, reducing the initial cost of acquisition. 
Pro tip: Whichever tool you choose to learn from, make sure you are first & foremost well-versed with Excel. 
#2 SAS
Statistical Analysis Software (SAS) is a paid programming language, created in 1960 for IBM computers. It wouldn't be a stretch to say that SAS has come a long way since. With new modules for social media analytics, business intelligence and visualisation, SAS still holds a significant position in the market.
However, enterprises and startups are leaning towards Python and other modern languages, leaving SAS behind.
#3 R Programming
An open-source equivalent for SAS is R. It is an open-source programming language that is one of the most popular among data analysts, for its ability to handle large datasets, perform data mining, advanced statistical analysis and visualisations.
If you have no coding experience, R is the best language to learn. You can build statistical models, create linear and non-linear modelling, time-series analysis, classifications clustering, etc. — with only a few lines of code.
#4 Python
Also open-source, Python is growing to be a favoured language among data analysts and data scientists. The StackOverflow survey of 2020 found that it is the 4th most popular language among developers, connected closely with machine learning and AI frameworks such as Keras, TensorFlow, Pandas, PyTorch, etc. Data analysts use Python for web scraping, scripting, data cleaning and visualisation. Googlebot, the webcrawler used by Google's search engine was written in Python. So are several data analytics projects in Spotify, Netflix, Instagram and others.
As a general-purpose programming language, it will demand some coding skills from you. However, it is one of the simplest languages, with readable syntax, that you can learn quickly.
#5 Tableau Public
Tableau is a data visualisation software that can connect to any relational database, cloud database or spreadsheet to create meaningful graphs out of it. Tableau Public, the free version of the software, allows users to create a wide range of visualisations and share it with their community. Without having any coding skills you can create, interactive graphs, maps, and live dashboards using Tableau Public.
#6 Apache Spark
Apache Spark is a unified analytics engine specifically designed for big data processing and analytics. It is fast, flexible, developer-friendly and open-source. Beginners typically use it in combination with R, Python or Scala, using the built-in APIs.
Some of the largest online organisations use Apache Spark for various purposes: eBay uses Spark core for log transaction aggregation and analytics; MyFitnessPal uses it to identify high-quality food pictures and in the recommendation engine; and atp.io uses Spark for predictive modelling and machine learning algorithms.
For any data analyst invested in a growth path in the field, skills in Apache Spark can open doors to many possibilities.
#7 Power BI
Power BI is Microsoft's proprietary data visualisation platform, which allows users to create interactive reports and dashboards across various kinds of data. As a business intelligence tool, it integrates seamlessly with data warehouses for visualising large datasets. In fact, London's transport departments use Power BI to show crowding at the city's underground train stations. This visualisation is publicly available here.
Automation has become an integral part of every career today, data analytics job is no exception. Analysts use a wide range of general and specialised tools on a daily basis as part of their work. We've listed the main ones in this blog post. But there are many others — Google Data Studio, Jupyter Notebook, RapidMiner, etc. As you grow in your career as a data analyst, you might need to learn more specialised tools. For a beginner, our top 7 will do the job just fine.
Springboard's data analytics career track will give you the skills you need across all the important tools. In addition to job-ready curriculum and hands-on projects, it also offers 1:1 mentorship with an industry expert and a job guarantee. Apply Now!