"I really enjoy exploring and analyzing large datasets. I love using computational and analytics techniques to help organizations make informed decisions. I'm a little confused because I have been looking at various data analyst job description and each of these differs from company to company." Some data analyst job descriptions require strong data modeling skills while others require reporting and visualization skills. These are just some of the questions and confusion which we often hear from aspirants keen on choosing a data analyst career.
"What actually does a data analyst do and is it a perfect career choice for me?" is another question our admission counselors often get asked this question by most aspiring data analysts. After careful consideration and some soul searching, we've got the answer for all students/professionals who have piqued their curiosity in a data analyst career.
Organizations approach a data analyst job role from many angles and describe a wide range of roles and responsibilities based on their business requirements making it sound a little ambiguous. This blog focuses on a sample data analyst job description template to understand who a data analyst is, what data analysts actually do, what their roles and responsibilities are, and the skills a data analyst needs to bring to the table to become successful in the industry. A data analyst job description tells you everything you need to know about working in the analytics domain, from work experience to choosing the right organization to work for.
Why every Data Analyst Job Description varies?
The 21st-century data analyst's world is multi-faceted. Unlike most IT jobs that have a clear and concise job description, the data analyst job description tends to vary. A data analyst can work across a broad range of areas including sales, marketing, operations, finance, business intelligence, and more. This makes a data analyst job role distinct at many organizations. The tasks a data analyst does and the projects they work on always lead to varying responsibilities. However, only one overlapping responsibility remains – a data analyst helps facilitate informed business decisions by wrangling insights from data using various skills, tools and techniques.
What does a Data analyst do?
A financial data analyst is involved in preparing forward-thinking forecast reports based on trends in the financial industry that act as summary information for managers.
A healthcare data analyst is responsible for analyzing patient data records and other healthcare data to help management deliver optimal healthcare to its patients.
A retail data analyst gleans insights from an extensive set of retail data to prepare customer-facing presentations, help retailers improve business operations and in-store experience for customers to increase sales.
Regardless of the industry, a data analyst works in, the day to day work of a data analyst involves gathering data, organizing it, and using it to derive meaningful conclusions. A data analyst spends the maximum amount of time in building new systems and processes for collating data, organizing it, and deriving the conclusions for better business decision making.
Data Analyst Job Description Template Explained
If you feel the role of a data analyst sounds an ideal fit for you, it's time to understand what a data analyst job description actually contains. Having detailed know-how of a data analyst job description will make it easy to decide if it's the right job to apply for or not based on your skillset.
Data Analyst Job Description Template: Data Analyst Job Titles
With every organization today adopting data analysis for business-driven decision making, you're likely to come across diverse data analyst job titles when applying for data analyst jobs. There are various possible data analyst job titles involved, including-
Business analyst
IT systems analyst
Healthcare Data Analyst
Operations Analyst
Financial Data Analyst
Quantitative Analyst, and more.
Career Coaches at Springboard suggest to home in on only those job titles that perfectly match your skills and aspirations whilst leaving room for career growth in the future. So, when applying for data analyst jobs, give careful consideration to each data analyst job title to ensure that you are in complete agreement with the job roles and responsibilities as well as the job title.
Say suppose you are interested to work in the finance industry then the most apt data analyst title would be –"Financial Data Analyst". Here's a sample data analyst job description for a financial data analyst job role at Moody's Corporation –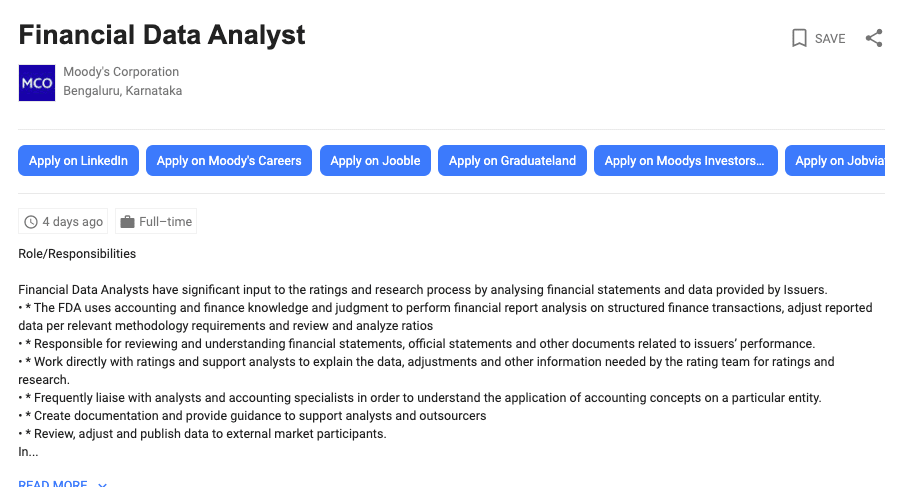 Data Analyst Job Description Template: Data Analyst Job Summary
This is the second most important section of a data analyst job description that gives a clear picture of the company's expectations and goals. The data analyst job summary is a clear and concise mention of the actual skills and expertise needed to be successful on the job and not a big laundry list of roles and responsibilities.
A data analyst job role requires a highly technical background and specific skills; thus, it is necessary to highlight the skills and expertise through a career objective or a qualifications summary. When applying for a data analyst job, our career coaches advise using a qualifications summary at the beginning of the resume to craft a perfect sales pitch of your analytical skills. Make sure the qualifications summary perfectly matches with the job summary of the job you are applying for. Having the skills and experience in the qualifications/resume summary in-alignment with the job summary takes you through the first step on being the best fit for the job.
Here's a sample data analyst job summary for the job role of a Senior Business Analyst at Proctor & Gamble –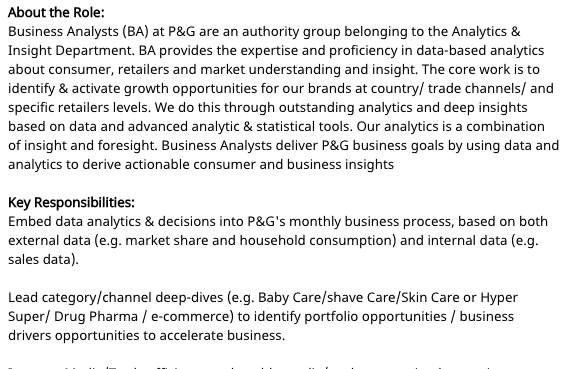 If you intend to apply for this job then your qualifications summary at the beginning of your resume must amplify your skills in advanced analytics and statistical tools to qualify for the role –
Business Analyst with 5+ years of experience in analyzing data for driving business growth. Proficient in mathematics and statistics with an excellent understanding of various advanced analytical and statistical tools for effective data analysis.
Data Analyst Job Description Template: Data Analyst Roles and Responsibilities
If you want to know what functions the position entails on a day-to-day basis then this is the section to look out for in any data analyst job description. Having an understanding of how the job role functions in any organization to who the job reports to makes it easy for an applicant to get through the door. The roles and responsibilities section of any data analyst job description gives an overview of the various technologies or methods an organization uses to collate and analyze data to improve the efficiency of systems.
Here's a data analyst job description at Google with a clear and concise mention of the responsibilities for the job –

The professional experience section of the resume should relate to the roles and responsibilities of the data analyst job description. Highlight any transferable responsibilities from your previous job that relate to the data analyst job you are applying for to prove that you are an excellent candidate for the job. Mention the relevant skills you have mastered over the period of time and how these skills have helped your previous organizations garner profits. Quantify your roles and responsibilities in the resume with as many numerical figures you can, something like –
Managed and organized over 200 datasets using advanced analytical tools, querying, and data visualization tools.
Created analytical reports for strategic planning that helped increase the overall productivity by 50%.
Data Analyst Qualification and Skills
This is the most important section a prospective job applicant should look out for in any data analyst job description to actually ascertain if you qualify for the job or not. It highlights the required and preferred skills for the data analyst job including educational qualifications, certifications, job experience, and other technical analytical skills. Most of the junior or entry-level data analyst jobs require a bachelor's degree while other senior or upper-level analyst positions ask for a master's degree. You might also come across a few data analyst job descriptions that might ask for specific degrees in Statistics, Mathematics, Economics, Computer Science, or any other related field of study.
Most of the data analyst job descriptions will require –
Knowledge of database languages like SQL, Python, or R
Expertise in data visualization tools like Qlik, Tableau, or Power BI, and
Spreadsheet tools like MS Excel or Google Sheets.
Expertise in data modeling, data mining, and database design are valuable for any kind of data analyst job and are implied as must-haves, even if they have not been listed on the job description. This section of the job description also outlines other qualities and personality traits the organization expects a prospective applicant to have to flourish in the job role.
Make sure to match the skills sections on your data analyst resume match with the skills requirements section of the data analyst job description. Framing the skills on your data analyst resume can give you a perfect opportunity that you deserve. To grab the attention of the employers, mention the must-have skills for the job with phrases like "proficient with" or "expertise in" in case you have a strong grasp of those skills else mention them with a phrase like "familiarity with".
Here's a data analyst job description for an associate-level data analyst at Myntra. As it's an associate/junior level data analyst job, a bachelor's degree is enough to qualify for the job-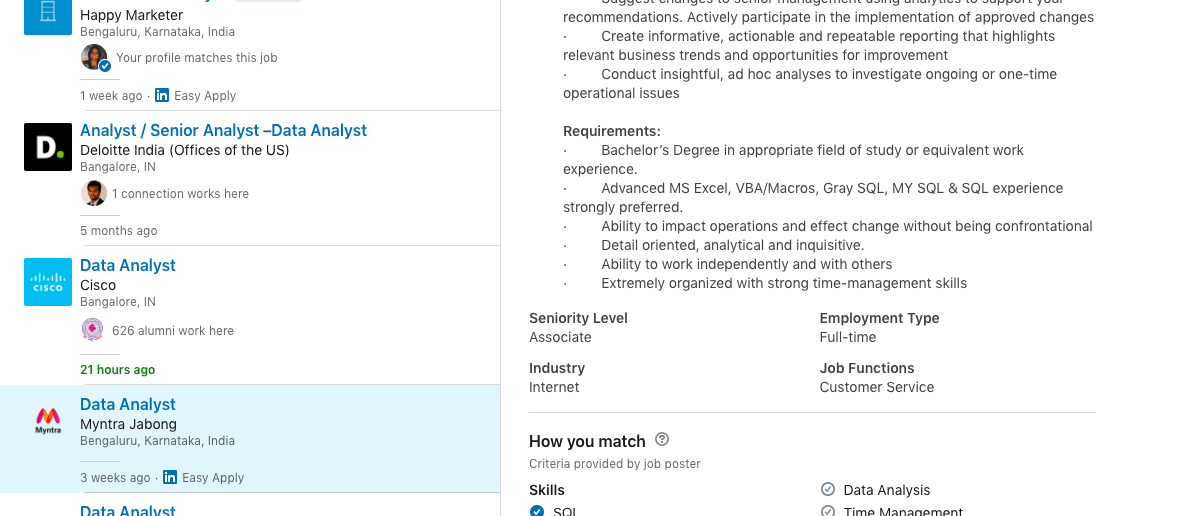 If you searched Indeed.com today, you will find over 10K open data analyst positions, each organization on the hunt for their own analytical data unicorn. Thus, in an effort to hire the right talent in accordance with the requirements of the company a data analyst job role has widened with multiple job titles and responsibilities varying from company to company. A data analyst's job role may seem to be many-sided but having the skills and ability to apply analytics across diverse industries for the successful management of a company can help you go a long way in your career as an analyst.
On the other hand, aspirants can also sense a great career opportunity – a career in huge demand, fat pay-checks, and job security. Having said that, a data analyst job is also a stepping stone for other senior data-driven job roles like data scientist, analytics manager, senior data analyst , and more, each of which comes with significant increase in pay-checks and a rewarding career path.

Are you all set to take the first step towards building a career in analytics?
Whether your goal is to land a fill-time top gig as a data analyst, progress in your existing career, or you want to venture into your own business in the analytics industry, Springboard can help you prepare for all sorts of analytics opportunities. With a mentor-guided Data Analyst course, a portfolio of real-world projects, a personal career coach and job-guarantee, Springboard has it all you need to become a successful data analyst.