A couple of years ago, Gartner analyst Nick Heudecker estimated that 85% of big data projects fail. While the adoption of data-driven projects has grown since so has the complexities of analysing that data and deriving meaningful insights. There is a huge demand for business analytics professionals — a recent study showed that there is a 33% increase in open positions, with as many as 97,000 roles available now. One of the best ways to qualify and be hired for these roles is learning through business analytics courses.
Business Analytics Courses: Your Pathway to a Brighter Future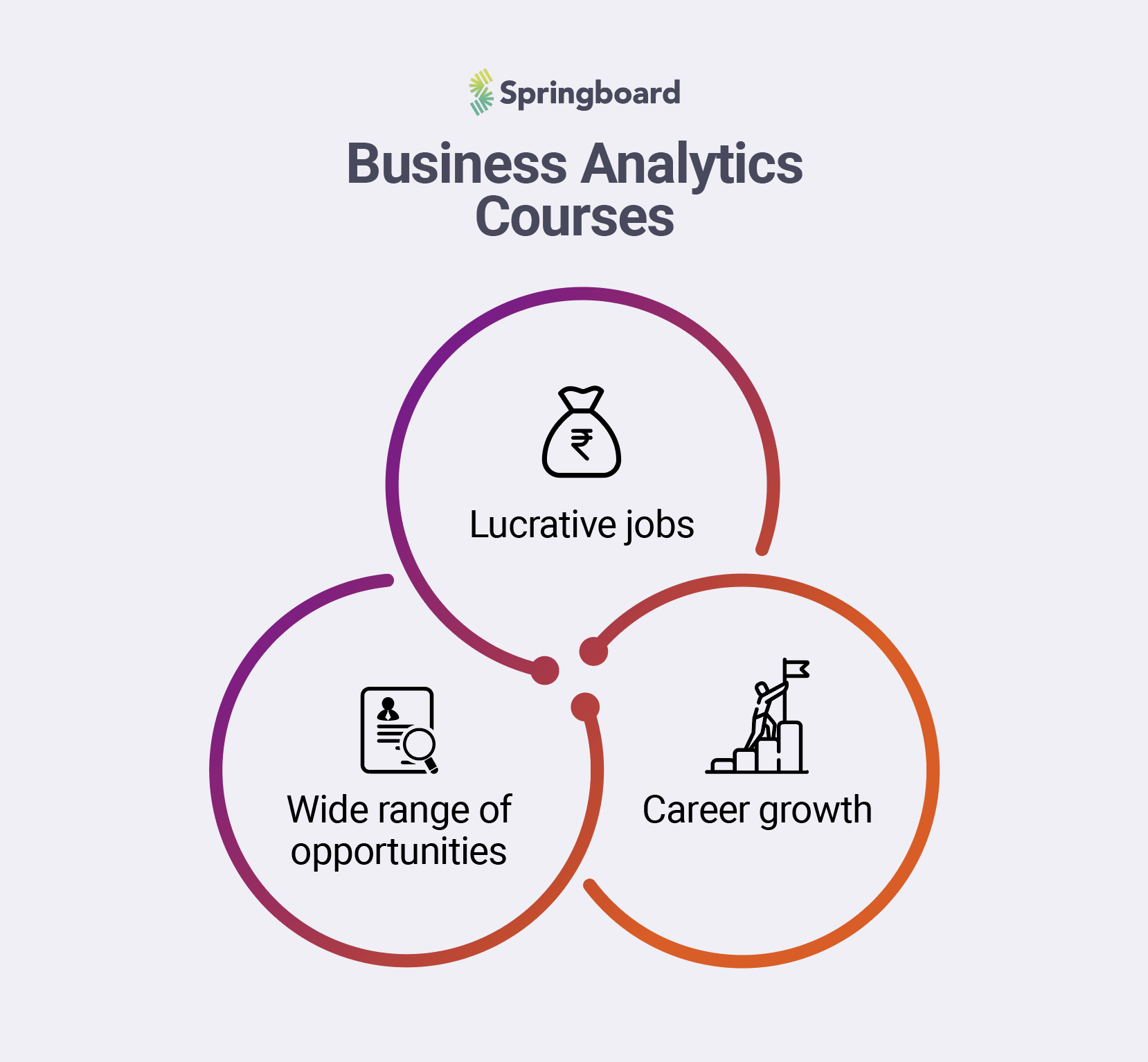 In today's marketplace, businesses are generating humongous amounts of data. A business analytics professional cleans, processes, models and transforms data to glean actionable insights for decision-making. Business analytics courses teach concepts, tools and techniques needed to take advantage of an organisation's data for business benefits. This typically includes:
Theoretical foundations of structured thinking, problem-solving, hypothesis testing, etc.
Data analytics tools from Excel and SQL to advanced ones such as Power BI and Apache Spark.
Practical experience with data cleaning, wrangling, visualisation, etc.
While any business analytics certification course will teach you these, in reality, it can offer a lot more. A robust learning program has the power to change your career path and fast track your growth. Here's how.
1. Lucrative career opportunities
Business analytics is a rapidly growing career path. Learning data analytics offers opportunities in the field of business analytics, opening doors to roles in high demand.
While 'data analyst' is the most common designation, the same role is also called 'business analytics associate', 'analytics manager', 'insights analyst', etc. A data analytics professional working on business analytics is not to be confused with a business analyst, who is part of software development teams. For the purpose of this blog post, we're only talking about an 'analytics professional', who we call a 'data analyst'.
The average data analyst salary is about Rs. 4,20,000 per annum, which can go up to Rs. 10,00,000 with experience.
Analytics managers earn Rs. 16,00,000 per annum, with vice presidents of analytics drawing nearly Rs. 40,00,000. Given the lower fees of online business analytics courses and the highly coveted career opportunities, the return on investment is sure to be very high.
2. Cross-domain career opportunities
Business analytics curriculum typically involves
Financial concepts like revenue, cost of goods sold, profit, balance sheet, cash flow statement and EBITDA
Economic concepts like supply and demand curves and cost curves
Statistical concepts like descriptive statistics (mean, mode, standard deviation), correlations, simple and mutli-variate regression, confidence intervals, etc.
A strong foundation in these concepts will enable data analysts to work across industries and domains — from retail to e-commerce to banking. While choosing an industry might help specialise and grow in the niche, the lessons are applicable across the board, enabling you to seamlessly switch from one to another.
3. Personal growth and career progression
As an emerging field, data analytics opens a world of opportunities for aspiring professionals. This includes both personal growth and career progression. A data analytics certification demonstrates that you have the passion and initiative to independently improve your skills.
It also demonstrates that you have acquired skills formally — through learning and experience — which puts you ahead of the other candidates in the market.
The conventional route to a data analytics career would be to get a college degree which takes four years and costs a few lakhs. But a certification course can be completed in a few months at a fraction of the price. 
When compared to a candidate who has learned through self-learning, your data analytics certification offers a structured and fast learning path. While it is more expensive than self-learning, the returns will be worth it.
There is no doubt that in 2020, business analytics is an exciting career path. The growth in big data, the demand for skilled data analysts and the competition for in-demand positions makes it the best time to enter the field. A data analytics certification is a simple, reliable and quick way to do so.
If you're looking for a good data analytics program, consider the Springboard Data Analytics Career Track. It offers a job-ready curriculum, project-driven approach along with two capstone projects, 1:1 mentorship, career coaching and a job guarantee.