The world has come a long way from the days when artificial intelligence (AI) meant a man-machine that looked a lot like Arnold Schwarzenegger (ahem, Terminator?). AI has grown closer than we could imagine — it's what makes Alexa play that Sonu Nigam song when you ask for it and what lets you switch on the AC before reaching home. Quite like how the internet era birthed the careers paths of software developers, SEO consultants, social media managers etc., AI is creating novel jobs across industries and disciplines. In this blog post, we'll discuss five top artificial intelligence jobs that you can get with a few technical skills, knowledge of tools and some persistence.
Artificial Intelligence Jobs: What the Future can Offer you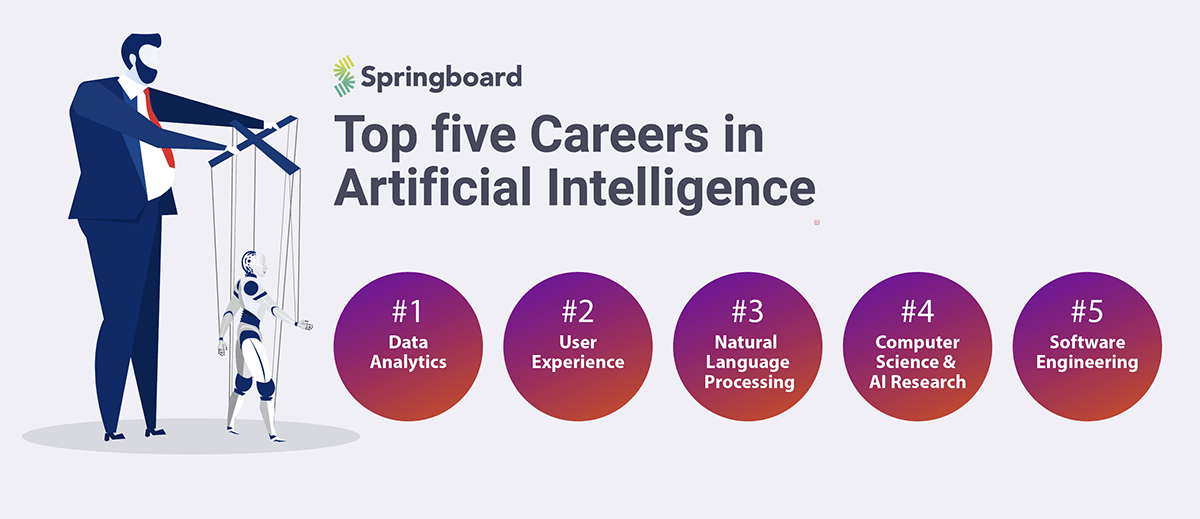 At its core, AI equips systems with the ability to make decisions or perform actions that would otherwise require human effort. This means that it is not limited by any profession, industry or domain — its application can be wide-ranging. Take this example of an AI-based tool that can help farmers manage the pink bollworm pest ruining crops in Maharashtra. 
In essence, a career in artificial intelligence can be anything you want to make of it. Here are the ones most aspirants are choosing. We hope these roles will give you the inspiration to gain the skills and forge your own path.
#1 Data Analytics is the Foundation of AI
While AI can do big, impressive things, its powers are only as good as the data it is built on. The data analyst performs this fundamental function — of collecting data, cleansing it, and finding useful connections that answer business problems. 
AI and data analysts help each other in two ways:
AI professionals use the data collected and managed by data analysts to build AI tools and models.
Data analysts use AI-enabled predictive analytics to do their jobs more efficiently.
This way, data analytics plays a complementary role in artificial intelligence. Many aspirants start their careers as data analysts to get a strong foundation of big data technologies before growing to take on artificial intelligence jobs. 
The typical skills expected of a data analyst are: Knowledge of mathematical and statistical concepts, experience with Microsoft Excel and SQL, and programming languages like R or Python.
LinkedIn suggests that you can expect a base salary of around Rs. 4,00,000, which can go up to Rs. 15,00,000 with the experience level of a senior or lead data analyst, roughly 6-14 years. 
#2 Transforming User Experience with AI
A fantastic AI application runs the risk of failing in the market if it is not user friendly. So much so that, a team of researchers actually created an AI system that helps an untrained audience easily create user-friendly apps, without professional help! 
With brands especially realising the importance of the virtual experience in the post COVID world, AI is set to play a larger role in the life of the UX professional. We had earlier written about how AI will change UI/UX jobs — here are some significant trends we believe will emerge:
Automation of mechanical tasks
Data-driven customer understanding
Data analytics to build hyper-personalised user experiences
Simulating cognitive processes to enable decision-making
Going by LinkedIn, with a base salary of Rs. 6,00,000 that grows to Rs. 22,00,000 with 6-14 years of experience, UX design can safely be called one of India's top tech jobs.
#3 Natural Language Processing and its Many Opportunities
Natural Language Processing is a subset of AI that makes speech interactions between humans and machines possible. Within NLP, there are several applications in communication-related AI areas such as speech recognition software, digital assistants, chatbots, sentiment analysis, natural language generation etc. 
In addition to AI skills, an NLP engineer is also skilled in the Natural Language Toolkit (NLTK), statistical NLP or deep / machine learning. This is often a combination of research and development of NLP interfaces, like this role from Kotak Mahindra Bank shows. 
In India, NLP will emerge to become a significant area in artificial intelligence jobs, when companies begin to actively include regional languages. Amazon's Alexa, which is now able to interact in Hindi, will need NLP professionals to speak in the 400+ other languages we Indians speak.
#4 Artificial Intelligence Research to Shape the Future
Earlier this month, Prime Minister Narendra Modi inaugurated RAISE 2020 — a global virtual summit for the responsible use of AI. Because, for upcoming fields like machine learning, AI etc., research is essential to make sure that a product is useful, scalable and responsible.
Typically, AI research is conducted in universities by graduate and postgraduate students. New techniques and processes often emerge from there. But since AI has proven to be extremely useful in commercial applications, several companies also have research departments. Companies like Microsoft and IBM conduct research as a part of their engineers' job roles. In 2019, Google opened its first AI lab in the country, announcing that India could potentially be the global leader for research in computer science and AI. 
As a researcher, you will need to use advanced tools like Keras, TensorFlow etc. to build algorithms for futuristic projects. You must be able to read the latest research papers and apply their techniques. You must also be able to identify new areas for AI and build robust applications.
#5 Software Engineering is Your Strongest Foundation
Software engineers come armed with the programming skills that AI requires. This is even better if they have skills in SQL, Python, R etc. — it lets them upskill easily to machine learning, robotics, deep learning, and artificial intelligence jobs. This very aspect is what makes them popular with employers.
On the other hand, the field of software engineering itself is using AI extensively. Low-code platforms that automatically create code from prototypes or drag-and-drop interfaces are gaining popularity. Test automation is another area where AI is transforming work.
Software engineers starting out in India can expect ₹2,38,000 as entry-level salary. With experience, they can earn up to ₹27,00,000. Artificial intelligence salary for software engineers is a whole lot more. 
Preparing for AI Jobs
If you're excited by the possibilities of artificial intelligence, now is the right time for you to begin your transition. Like we said before, starting a career in artificial intelligence needs you to have a few basic skills:
Problem-solving skills
Technical skills
Programming skills
Springboard's AI/ML Machine Learning Career Track is designed to give you these, plus the personal help you need to make your mark in the job market. It is a six-month-long, fully online program with the benefit of 1:1 mentoring and career counselling. Check it out now!