One of our learners, Pratik Singh, has worked on an amazing project on analyzing elected Member of Parliaments in India-2019.
Keep reading how his experience was as he describes it.
The quote from Spider-man 'With great power comes great responsibility' is heard time and again at various occasions. But how often we abide by that, is definitely a topic for introspection.
The recently concluded General Election in India gave the same power to every individual and campaigns were put to let people use their 'great power' and make a 'responsible' choice.
So in this Data Analysis exercise, I will discuss the choices we made by analyzing elected member of parliaments on their criminal backgrounds and education level and see how good/bad they were.
Ryan Lilly nicely quoted :
"The choice to make good choices is the best choice you can choose."
Data Acquisition
The information about winning candidate and their Criminal and Educational details were scraped from myneta.info using Scrapy.
Approach & Challenges
Just like any other real-world data, it was not in a good shape initially and a lot of efforts were taken to get it into a form good for analysis.
You know how frequent our politicians go on a name changing spree. I had always wondered about the guys who would be changing the records once a city is renamed. So was the case in this analysis. My Geo-code data had Constituency names from a few years back but the winners' list had recent names.
There were few cities with '-' within their names, so it needed correction.
Moreover few constituencies had the same names, which was to be taken care of as well. One of the examples is Aurangabad which is present both in Maharashtra and Bihar.
Insights derived :
Around 44% of MPs have one or more criminal cases registered against them.
Kerala, UP, and Telangana are the top states in terms of polluting the Parliament.
Dean Kuriakose from Idukki Kerala with 204 Criminal Cases against him is the front runner.
Around 75% of MPs are graduate or above.
There is some positive correlation between educational level and criminality. We see that peoples at the high and low ends of the education are having lesser cases against them as compared to the middle level.
Github Link: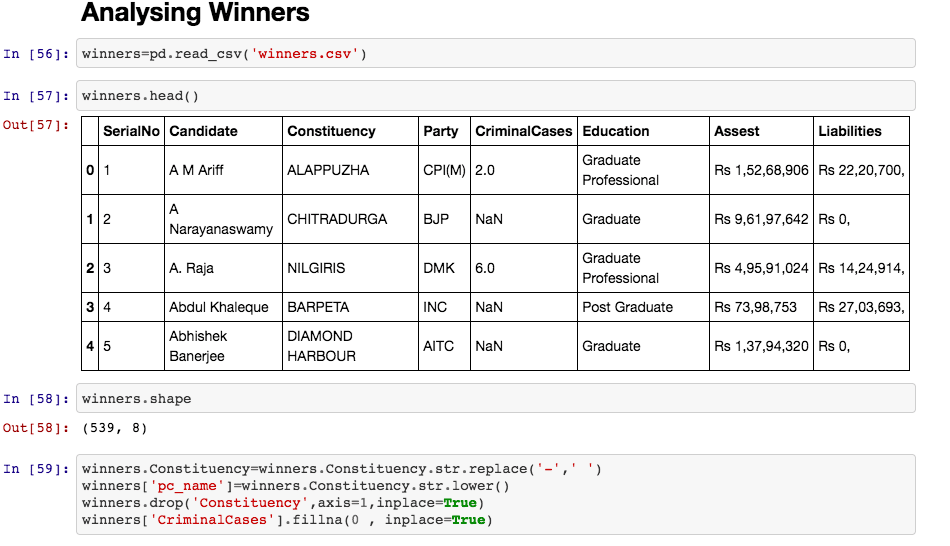 https://github.com/impratiksingh/ElectionData/blob/master/Election_Viz.ipynb